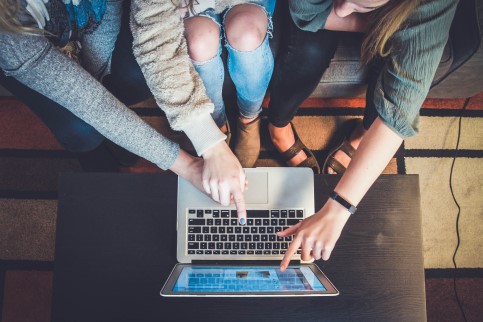 Photo by John Schnobrich on Unsplash

The intention of this online course is to present different ways to integrate ICTs to your learning activities. This course provides different examples and tutorials with free tools that can be used on all devices. You will also learn how to organize your classroom, technological tools and activities according to your situation and needs. Integrating technology to your class does not have to be complex but it does need to suit the learning intentions.
Module 1 : Observe your environment and identify all the resources available.
Module 2 : Set learning intentions.
Module 3 : Explore various technological tools.
Module 4 : Try one of the tools you wish to integrate into your practice.
Module 5 : Find out ways to organize your classroom and students when using technology.
Module 6 : Plan a learning sequence and create material to use with students.
Module 7 : Reflect on your process during this online course.
After completing these modules, you will have a knowledge of various technological tools you could use in many learning contexts with students. After creating activities and trying them with students, you will reflect on your practice. If you wish to earn a badge, you will complete assignments in various activities and a course monitor will award them to you once all the conditions are met.
*** Please note that this course is regularly updated, therefore, some tools suggested may vary between your visits. ***
Here are the descriptions of the badge you could earn by completing assignments:

Discover

1,5 hours

Apply

2 hours

Design

2 hours

Transfer

1









You explored four suggested tools and completed the assignment "Explore Different Tools".

You created an activity or resource and used it in class. You submitted your homework to explain your experience.

With an appropriate learning intention, you created and submitted a learning sequence using at least 2 suggested tools.

You reflected on significantly transferring your learning into your practice. You shared documents that showcase(d) your development.

If you wish to have access to all the features of this course

(and if available, get a badge)

, you need to

create an account

in Campus RÉCIT and

register for this course.

Course designers: Sandra Laine and Nadia Laurendeau In collaboration with Martin Tremblay