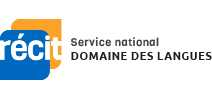 This online course is intended to support English as a second language teachers in the integration of technology in vocabulary building.
With the Digital Action Plan in Education and Higher Education, announced on May 30, 2018, teachers will now have more access to technology in the classroom. The Digital Action Plan gave flexibility to each school in the choice of the devices to purchase and English as a second language teachers will therefore have access to different types of devices like tablets or portable computers. That is why we have chosen to present tools that can be used on all devices and are at low or no cost to users.
The objective of this course is not to teach the importance of vocabulary building since ESL teachers already value and use vocabulary building and strategies in their classroom but to integrate technology when it brings added value to their lesson.
You can find this course
here
.
Preparation phase
How to integrate technologies in a learning sequence?


The goal of this online course is to propose different technology-enhanced learning activities and to provide resources to help you integrate them in your learning sequences (LES). You will be able to make choices depending on your needs and resources that are available in your school. Our focus will be on the pedagogical intention in order to maximize the use of ICTs to develop students' competencies: a progressive integration but personalized.

For each lesson, we will propose a series of clips and resources from which participants will be able to choose from.
Each lesson will have that sequence:
Introduction and context

Technology-enhanced learning activities proposal

Challenge
Eventually, a training platform will be available to complete this self-paced professional development course. Videos of teachers and students that present them in action and different resources to support the integration of technologies will be available.
Teacher: Sandra Laine